hf THRIFTYKING CT2 - Green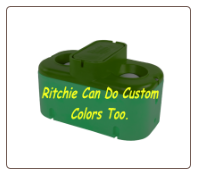 Click to enlarge image(s)
The ThriftyKing CT series is THE MOST INSULATED & EFFICIENT FOUNTAIN made! Foam filled poly walls are inches thick, and the floating enclosures keep out the coldest winds and weather but still allow the animals access to water. These enclosures also keep the water cool in the summer, deter the breeding of mosquitoes and growth of algea. They are eliptical in shape so all the animal has to do is tip it over to one side, not push it down into the water. When properly adjusted, the balls are floating on the water about 1/4-1/2" below the cover lip. This way, they won't freeze to the cover and animals can easily tip them over for a drink. We like to say that these fountains "LAUGH AT THE COLD!". They are like the Watermaster series in that they are an unbelievably tough, durable & dependable waterer. In the industry, stray voltage is known to be an issue that affects how much water the animals will drink. Poly is not a conductor of electricity so it does not transfer stray voltage to the sensitive lips of the animals. Cleaning of the trough is easy enough by removing the top cover and enclosures to properly get the job done. The ThriftyKings are typically used out in the middle of large pastures, open ranges, etc where power is miles away. When there are at least 10 animals drinking from the fountain, the water comes into the unit at 42 degrees or higher, the fountain is properly installed with proper seals and thermal tubes in place, you are very unlikely to see it freeze up - EVER! But when power is available, using an optional immersion heater and supply line cable heater would be the way to make these fountains even more winter proof. Click the P-O link below to see those parts and order them. This model # waters 100 beef or cattle animals and is shown here as being in a two tone example. Some Green fountains are made to order only - the CT series are that way at this time. The

Green color.

#18546 has been special ordered by some of our customers so we are including it along with other Green fountains here on our website. By the way, on large orders, Ritchie can make your fountains any color you would like - this has been especially keen when it comes to matching School colors at College, University, and even High School Ag Deptartments.

P-V * P-O * PQR * Spec * Foot * Man

Sorry, we can't include this unit in the free UPS shipping offer so you need to call us

with your order and let us find the least expensive way to get it shipped or delivered.



| | |
| --- | --- |
| 42.8" length, 24" width, 25" overall height, 19" drinking height, 90# shipping weight | When electricity is available, add optional immersion heater & cable heater |
| The trough holds 28 gallons, this waterer will serve up to 100 beef & cattle animals | Comes with the green 60-80 psi valve, but low, med, & very high pressure valves also available |
| | |
| --- | --- |
| Smooth, rounded edges and corners insures animal safety even in tight quarters | Ideal for use in large pastures and open ranges |
| Highly insulated thick-walled foam filled polyethylene construction built to last a lifetime | Warranty is 5+5 (first 5 years 100%, next five years prorated) 1 year on wear & tear parts |
| Very easy to clean | "Easy to clean" means that you will...so animals are insured clean, cool water in the summer too. |
| Floating enclosures keep out cold, heat, sunlight, mosquitoes & wind & dirt | No rubber gaskets to crack, crumble, and deteriorate. No irritating latches or corroding metal parts to malfunction or harm animals |
| Long proven Ritchie nylon float & valve system that works great even when the water is sandy (as is common on the farm) | 4 pressure ranges of valve available - 5-40psi, 40-60psi, 60-80psi & 80-100psi |