Relax, Water 'em Right With Fresh Water for Life Using A Reliable Ritchie Fountain!
Ritchie waterers and Ritchie fountains provide your horses, cattle, hogs, sheep, and goats with a reliable water source 24 hours a day, all year round. You will often hear or read the Ritchie slogans "Ritchie waters 'em right!", or "Fresh Water For Life" Rest assured you can believe that! And the water will be cool in summer, liquid in winter, and clean & healthy always.
In the northern part of the country, it is very important to keep water for animals from freezing during harsh winters. Ritchie waterers not only do a great job of this but they provide another important need to us in the south...animals drink more, stay well, and benefit greatly during scorching hot Texas summers if their water is cool, clean, fresh and inviting. Horses, cattle, and other livestock live healthier and longer if watered with Ritchie fountains - it's been proven.
Add in the labor & time savings, ease of cleaning, and the dependability of a Ritchie waterer and your daily animal care becomes a pleasure...then YOU will be healthier and happier too!
Ritchie waterers, Ritchie fountains, and Ritchie parts do all these jobs wonderfully well with simplicity and long-lasting trouble free service.
Clinton Anderson believes Ritchie horse waterers are the best way to water his horses too!
CLICK HERE to listen to Mr. Anderson tell you himself!
CLICK HERE to watch a 1-hour video of Clinton touring the factory.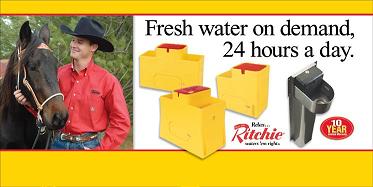 The noted horse trainer
Clinton Anderson
will tell the folks who attend his training clinics that he has yet to find better horse waterers than those made by Ritchie. You'll see a lot of "yellow" out there at his ranch! Mr. Anderson reminds his followers that there is no quicker way to lose a good horse (and all you have invested in it) than by ignoring the healthy feeding and watering it needs and deserves. Clean, cool, fresh, and inviting water in the summer, no ice to break in the winter... for you and your horse, that's living the good life! It is interesting to know that Mr. Anderson could have ANY brand of horse waterer made - HE chooses Ritchie!

An important note:
Ritchie Industries believes the distributor / dealer relationship is the best way to serve its customers across the United States. For this reason, Ritchieintexas.com only takes online orders from customers located in our authorized geographic territory of Texas, Eastern New Mexico, and Southern Oklahoma (south of I-40). This website exists to inform and serve the retail Ritchie customers who would like to purchase their Ritchie products online. However, in many instances there is a Ritchie dealer near you. It is always best to spend your money locally helping the merchants in your community. To see if there is a dealer close, go to the link above on the left and use the dealer locator.
Thanks for visiting Ritchieintexas.com