fb CATTLEMASTER 840 - Electric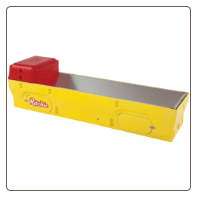 Click to enlarge image(s)
The Cattlemaster Electric - A hybrid poly-stainless fountain design with thick foam filled poly walls, 304 stainless steel pan and powerful thermostat controlled electric heaters are the intended replacement for the older all-metal Cattlemaster fountains of yesteryear (CM48, CM84, CM144). What an improvement these hybrids are! No more paint peeling, rusting or corroding of the metal skins - the poly foam filled frames and 304 stainless pans are f-o-r-e-v-e-r. This premier constructed fountain will be with you for a lifetime! We say that the CattleMaster fountain lineup is "COMMANDING" - it commands respect from old man winter and his relentless cold, it commands respect from mother nature and her harsh beating of weather & elements, and it commands respect from father time and his attack of decay and deterioration. Like all Ritchie waterers, they are super rugged to take whatever you and your animals want to throw at it. But it is safe for your animals to be around with its smooth edges and corners. The side panels are generous in size and easy to remove to gain water line access. Cleaning of the trough is easy. The CattleMaster series is great where feedyards & dairies water large numbers of animals in the cold, poop, & urine. This model # waters 300 beef, 150 dairy animals and is made in the

Yellow color

. #18235

P-V * P-O * PQR * Spec * Foot * Man

Sorry, we can't include this unit in the free UPS shipping offer so you need to call us

with your order and let us find the least expensive way to get it shipped or delivered.



| | |
| --- | --- |
| 86" length, 23.5" width, 24" overall height, 16" drinking height, 130# shipping weight | Unit has heating elements and cable heaters which are thermostatically controlled 1048w (8.7A @ 120v) |
| The trough holds 35 gallons, this waterer will serve up to 300 beef, 150 dairy animals or cattle | Comes with the green 60-80 psi valve, but low, med, & very high pressure valves also available |
| | |
| --- | --- |
| Smooth, rounded edges and corners insures animal safety even in tight quarters | Ideal for use in dairies and feedyards |
| Highly insulated thick-walled polyethylene-stainless construction built to last a lifetime | Warranty is 5+5 (first 5 years 100%, next five years prorated) 1 year on wear & tear parts |
| Very easy to clean | "Easy to clean" means that you will...so animals are insured clean, cool water in the summer...electric heaters under the pan and cable heater on the supply line. |
| Open bowl fountain design makes access to water simple for the animals | No rubber gaskets to crack, crumble, and deteriorate. No irritating latches or corroding metal parts to malfunction or harm animals |
| Long proven Ritchie nylon float & valve system that works great even when the water is sandy (as is common on the farm) | 4 pressure ranges of valve available - 5-40psi, 40-60psi, & 60-80psi & 80-100psi |