gc WATERMASTER 90 - Constant Flow
THE PRICE: 1254.00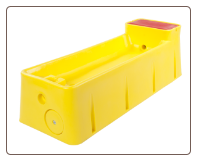 Click to enlarge image(s)
The Watermaster Poly Fountain with Constant Flow option is the number one series for feed yards and dairies in the South. These fountains can best be described as "WORRY-FREE WORKHORSES". An unbelievably tough, durable, dependable waterer. It has been reported that HUGE steers have stood in them without damage to the units. No more paint peeling, rusting or corroding of metal skins - the poly foam filled frames last for many, many years in the worst conditions in feedyards. In the industry, stray voltage is known to be an issue that affects how much water the animals on the property will drink. Poly is not a conductor of electricity so it does not transfer stray voltage to the sensitive lips of the animals. Like all Ritchie waterers, they are super rugged to take whatever you and your animals want to throw at it. But it is safe for your animals to be around with its smooth edges and corners. The side panels are generous in size and easy to remove to gain water line access. Cleaning of the trough is easy. The Watermaster series are commonly used in feedyards & dairies where large numbers of animals need healthy water to drink in harsh conditions. Using an optional immersion heater and supply line cable heater would be the way to make these fountains even more winter ready. Click the P-O link below to see those parts and order them. This model # waters 300 beef, 150 dairy animals and is made in the

Yellow color

. #16467

P-V * P-O * PQR * Spec * Foot * Man

Sorry, we can't include this unit in the free UPS shipping offer so you need to call us

with your order and let us find the least expensive way to get it shipped or delivered.



| | |
| --- | --- |
| 90" length, 33" width, 28" overall height, 22" drinking height, 180# shipping weight | When electric heat is not possible, constant flow heat is the next best thing |
| The trough holds 30 gallons, this waterer will serve up to 300 beef, 150 dairy animals or cattle | Comes with the green 60-80 psi valve, but low, med, & very high pressure valves also available |
| | |
| --- | --- |
| Smooth, rounded edges and corners insures animal safety even in tight quarters | Ideal for use in dairies and feedyards |
| Highly insulated thick-walled foam filled polyethylene construction built to last a lifetime | Warranty is 5+5 (first 5 years 100%, next five years prorated) 1 year on wear & tear parts |
| Very easy to clean | "Easy to clean" means that you will...so animals are insured clean, cool water in the summer. If electricity is available, add an immersion heater and a cable heater for maximum winter protection. |
| Open bowl fountain design makes access to water simple for the animals | No rubber gaskets to crack, crumble, and deteriorate. No irritating latches or corroding metal parts to malfunction or harm animals |
| Long proven Ritchie nylon float & valve system that works great even when the water is sandy (as is common on the farm) | 4 pressure ranges of valve available - 5-40psi, 40-60psi, & 60-80psi & 80-100psi |