yjb Valve Box Cover for Watermaster 54D - Red Cover for a Yellow Fountain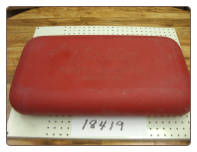 Click to enlarge image(s)
Valve Box Cover #18419 (drop in style) for the Watermaster 54D -

Red Cover

for a

Yellow Fountain.

Overall Measurement: 26" x 12-3./4".

A little history lesson is needed on this cover. When the Watermaster 54 Deep was first produced, it used a cover #18373 which was a cover that dropped in and also fit over the edge of the fountain at the same time (it is actually pictured here since we have taken a cover off an older unit in our warehouse to make this photo). This older cover was one that used a pair of pins to insure it stayed in place and it had an overall measurement of 27-1/2" x 14-3/4". The newer cover #18419 which is termed a drop-in cover that doesn't use the pins would be the one shipped to you today. It should work on your fountain base regardless of its age. However, before you order a cover for your 54D unit, you could call us to specify which one you prefer and we could try to get the older one if you wanted it. Otherwise, you'll be getting the newer vesion, the #18419.