cd WATERMATIC 300 - Yellow
THE PRICE: $593.00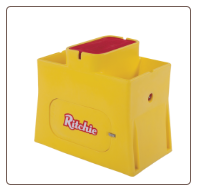 Click to enlarge image(s)
The Watermatic 300 Series Ritchie Waterers are like an overgrown model 150, super rugged for the largest animals. But like all Ritchie waterers, it is safe for your animals to be around with its smooth edges and corners. The highly insulated extra thick-walled polyethylene construction will be with you for a lifetime. This unit comes in two colors - yellow and green (but green may have to be made to order on this model). Outdoors, yellow provides cooler water in the summer, and when cleaned up attracts attention and looks the most sanitary. The green color is great where the natural look is desired such as deer leases, zoos, natural animal habitats, or to compliment barn colors. The side panel is generous in size and easy to remove to gain water line access. Soft silicone plugs are used for cleaning of the trough and these plugs can also be switched over to hold water in the valve box during exceptionally cold nights, or when water is not needed in an empty pen, or when a pen with medicated animals are being held off water for a time. We like to say that WATERMATICS ARE WONDERFUL! This model # waters 120 beef cattle, 60 dairy animals (1/2 from each side) and is the

Yellow color.

#18050

P-V * P-O * PQR * Spec * Foot * V1 * V2 * Man

Sorry, we can't include this unit in the free UPS shipping offer so you need to call us

with your order and let us find the least expensive way to get it shipped or delivered.



| | |
| --- | --- |
| 36" length, 21.5" width, 31" overall height, 26" drinking height, 69# shipping weight | Unit does not come with heat but optional immersion heat can be added |
| Double sided trough holds 8.2 total gallons, this waterer will serve up to 125 beef cattle or up to 60 dairy cattle | Comes with the green 60-80 psi valve, but low, med, & very high pressure valves also available |
| | |
| --- | --- |
| Smooth, rounded edges and corners insures animal safety | Ideal for use in pastures, corrals, and paddocks. Can install in a fence line and serve two pens. |
| Highly insulated thick-walled polyethylene construction built to last a lifetime | Warranty is 5+5 (first 5 years 100%, next five years prorated) 1 year on wear & tear parts |
| Very easy to clean using the pop-out silicone rubber plugs | "Easy to clean" means that you will...so animals are insured clean, cool water in the summer...no ice to break in the winter |
| Ingenious lid design keeps animals out and uses water seal to keep out dirt, wind, cold, heat, & insects | No rubber gaskets to crack, crumble, and deteriorate. No irritating latches or corroding metal parts to malfunction or harm animals |
| Long proven Ritchie nylon float & valve system that works great even when the water is sandy (as is common on the farm) | 4 pressure ranges of valve available - 5-40psi, 40-60psi, & 60-80, 80-100psi |
| The double sided feature allows more animals to drink or it can be installed in a fenceline and serve two pens | Any time you can buy just one waterer and have it take care of two herds of animals it's financially sound & efficient |