sgc 3/4"fpt x 5/8"barb Elbowing Bulkhead Package w/ Nut and Gasket
$10.00 ship & handling fee on orders less than $50.00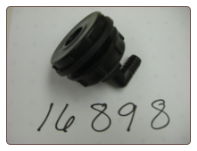 Click to enlarge image(s)
3/4"fpt x 5/8"barb Elbowing Bulkhead Package w/ Nut and Gasket. This bracket sandwiches a plastic wall on larger units to give a 3/4" fpt mounting option for all the 3/4" male float valves to screw into. It was a two piece construction.
NOTE: The new version is a one piece construction. The new number is #18838 and it will be what you'll get when you order this part.
It is used on all the Watermaster 600, 1200, Watermatic 300, 1000, and on ThriftyKing CT 2 and CT 4 units.