qbc Drain Pipe Elbow Assy for Omni 3, Cattle #3
$10.00 ship & handling fee on orders less than $50.00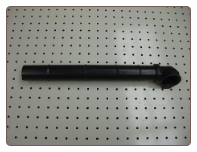 Click to enlarge image(s)
This is the drain pipe elbow assembly for Omni 3, & older metal cattle #3 units.
When you order this drain pipe assembly, we will be shipping you the 11743 and you will cut it off as noted below:
NOTE: From the end of the "ellbow" where the pipe begins its trip outward, this overflow pipe measures 13-3/4" to the end when it is a #11473. Then this overflow pipe can be cut off to 10-1/2" length for the omni 3 and metal cattle 3 fountains (then it would be a #11472). It can be cut off to 9-1/8" for Omni 1, 2, 2sp, & metal AC's (then it would be a #11471).